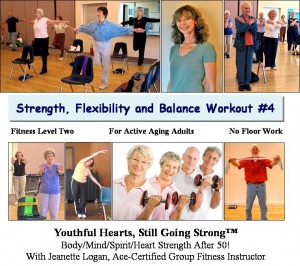 I'm excited to offer my fourth Still Going Strong home workout dvd. It's a well-rounded workout geared toward the boomer and senior generations, with exercises to optimize strength, balance, and flexibility, exactly what we tend to lose as we age unless we do what we need to do to prevent it or reverse it.
This is also my way of offering my support to you for maintaining and improving your body, mind and spirit fitness at home! I've been hearing some good comments about it from those who have already purchased it, which makes me feel good since I put a lot of work into it.
Here's a comment from a longtime class member who uses my home workout dvds on a regular basis:
 "Jeanette's newest DVD is great! I really like the quick reminders about not pushing too hard. Also, the option to do a shorter version of the workout is a very good idea and well done. I like it so much that I ordered a second copy for a friend's Christmas present." ~Lyn Jacoby, age 72, Sonoma, CA
The DVD includes:
A warm-up with natural, therapeutic energy medicine and light cardio;
 a key exercise to target and reverse poor posture; an 
abdominal strength segment; a balance segment; a full body stretch 
segment and a short relaxation segment (Full workout: 70 minutes. Can 
be done all at once or as individual segments on different days.)

An express workout for when you don't have a lot of time. It includes all 
of the above segments, but with shorter sets. (25 minutes)

A demonstration of exercise levels 1, 2 and 3 for many of the exercises 
so you can work at the level that is right for you.
The equipment needed:
One set of light hand weights (optional)

One set of moderately heavy hand weights (optional)

Resistance band or tubing

A chair

A wall

A good attitude

Your favorite music if it motivates you!
No floor work. All of the exercises are either done standing or sitting. It is a complete workout for active aging adults. (Not for very frail elders). It is not a Hollywood glitz workout. It is just me, in my living room, leading you in a safe, effective and fun workout that will help you move better and feel better in life! (price: $21)
I've been involved in the health and wellness field for over 25 years, specializing in older adult fitness for over 19 years now. I deeply desire to make a positive difference to those over 50 (up to 100!) by offering my expertise and support through beneficial fitness work that I passionately enjoy. Exercise is like a fountain of youth!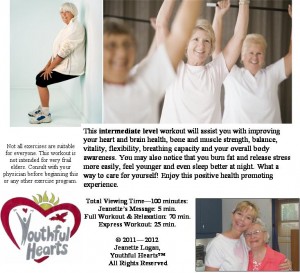 This workout dvd is perfect for gifts, or to keep yourself on track with your fitness goals during holidays or for those other days when you can't make it to a class or get outdoors for your favorite exercise! There is no better gift to give yourself or a loved one then support for better health. And the older we get, the more important it is to stay consistent with a good, safe exercise program. If we go too long without exercising then our muscles begin to atrophy, which sadly leads to loss of functional strength and balance. I am devoted to offering remedies for this growing concern in the senior population!
Here's what one of my class members has to say about my fitness work:
 "I am very satisfied with Jeanette's exercise program. I have never done an exercise class so consistently before. I am stronger and have more energy. Her style is friendly and encouraging and she instructs us on how to do each exercise according to our ability. ~Laurie Hanley, age 76, Novato, CA
Email me or phone me if you have any questions or if you're interested in purchasing this home workout DVD, $21. (Shipping/packaging is $5.)
My phone number: (707) 642-3603, email: JL@YouthfulHearts.com
I have received many positive comments about my dvds and cds, so I feel confident that you'll be happy with your purchase. But if you're not satisfied for any reason, I am offering a 30 day money back guarantee.
Whatever type of exercise you prefer, I encourage each and everyone one of you to practice deeply caring for yourself. Celebrate your aliveness by staying active, having fun and eating healthfully. You deserve to feel great!
Be well,
Jeanette Logan
Letter from a longtime class member:
"Hi Jeanette, just wanted to let you know that your new workout dvd works beautifully. I'm lovin' it! You are a busy gal! I love that you are so connected, both in person, and via the Internet. It is rare to find a practitioner who is so in tune with their audience.  You have the gift of making everyone feel that they have your undivided attention.  This is rare!

I believe in your methods and intend to share your philosophy with my circle of friends and clients in Honolulu.   You have a lovely, enriching exercise style, both mental, physical and spiritual!!  In addition, you are gifted with endless patience. Aloha!" ~Stacy Newbold, Honolulu, HI & San Rafael, CA

Email from a fairly new class member:
"Dear Jeanette: You are so young to be so knowledgable and good at what you do. Your Still Going Strong class is a real workout. I never knew I had all those muscles. I really need those back muscles exercises. I would like to purchase two Workout #4 DVDs, for my neighbor and my sister in Nevada. That DVD has been excellent therapy for my scoliosis and lumbar spinal stenosis. Also, I am very pleased with your Garage Workout #1 tape, so if you have any other similar level tapes I would like to purchase them also. Keep on going, so we can." ~Marilyn Swieconek, Novato, CA

Blog post from a past class member who moved to Southern CA:
Jeanette, you are the continuing teacher of my way to a life of health. I use your 70 min. DVD #4  every other day.  Every morning I do a "Jeanette routine" that gets me going with no aches or pains and lots of energy. I always thank you before and after my exercises for being my wonderful teacher who has shown me the way to good health. I can even keep up with my two year old grand daughter because of what you have and continue to teach me. I am blessed that I took your class.
With my love and gratitude, ~Shirley McClung, Oaji, CA