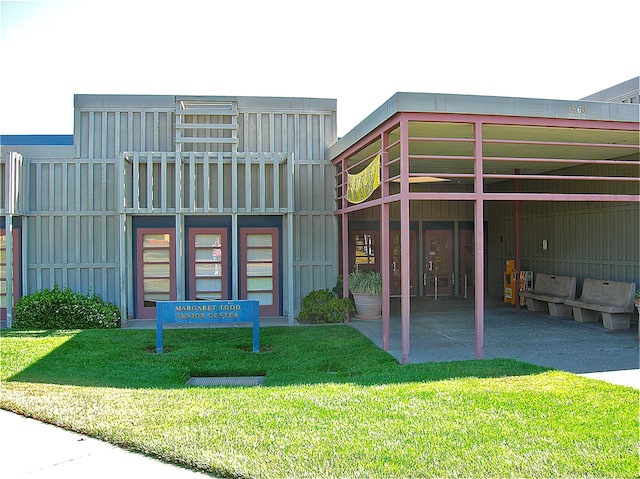 1560 Hill Road, Novato, CA  94947
(415) 899-8290
Youthful Hearts class fees vary according to frequency of attendance.
(View Fee Schedule.) Call or visit the center for more registration info. 
The Margaret Todd Senior Center is a program of the City of Novato Parks, Recreation &  Community Services Department. The Center provides educational and recreational activities for adults 50 years and older. It is a place for people to gather, socialize, learn, relax and have fun in a welcoming, friendly environment. If you are new to the area, or would just like to learn more about the Center, stop by or call to schedule a tour with Center staff.
The Center is open Monday through Friday, 9am – 5pm, and weekends and evenings as scheduled. Opportunities for participation range from educational seminars, fitness programs and enrichment classes, to volunteer staffing. Many services such as blood pressure clinics, health screenings, and Medicare and tax assistance are offered. The Center operates as a meeting place and home to many senior groups such as the City-sponsored Novato Senior Citizens Club. The Center maintains a free lending library of donated books, games and puzzles.
Some of the Center Activities: NIEP, Daily Lunch Program, Creative Writing, AARP Safe Driving, Computer Classes, Line Dancing, Exercise  Classes, Art Classes, Board Games, Support Services, Trips and Travel. There is an annual registration fee for the Margaret Todd Senior Center of $25 per person, or $20 per person for members of the Novato Senior Citizens Club. The registration year begins and ends with the anniversary date of registration. Scholarships are available for those in financial need.
Directions to the Margaret Todd Senior Center:
Click on the red pointer within the map if directions option is not showing.
View larger map