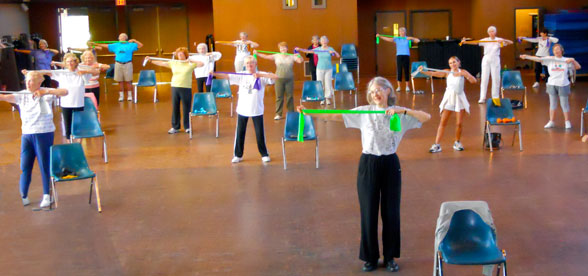 Still Going Strong!
Strength & Stretch Training For All Levels, Men and Women After 50

Feel great, live better and maintain your ability to take care of yourself as you grow older! There's never a dull moment in this creative, pain-free, non-competitive class. Using hand weights and optional leg weights, resistance bands, inflated balls and chairs, you'll improve your bone and muscle strength, balance, flexibility, heart and brain health, and your body's ability to burn fat.
Learn to safely work with your limitations and actually ENJOY exercising your body. Deep breathing and relaxation are emphasized to help with stress release. Become strong and happy! Equipment is provided. You may sign up for 1 day or 2 days per week. (This class includes some floor work at the Goldenaires location, and no floor work at Margaret Todd Senior Center.)
Why Strength Training is Important for Older Adults
Dr. Miriam Nelson of Tufts University has found in her research that Strength Training "restores bone, improves balance and flexibility, energizes, controls weight, helps the heart, relieves arthritis symptoms, lifts depression and aids sleep."
Read Tips For: Your First Class. I hope to see you soon!
What Makes Jeanette Unique?
"Jeanette has a special, unique teaching style, beneficial to everyone in class. Not only does she remind us 'all levels are welcome here, so work at your own level and do the best you can,' she continues to give constant positive reinforcement while exercising. She reminds us to breathe, while giving positive affirmations for less stress, good health, and self-esteem. She works out the brain as well, testing the body with different combination movements. She is encouraging and inspirational, and her class adds to my life. Thank you, Jeanette! ~Deedee Severdia, Novato, CA
Other Youthful Hearts Older Adult Fitness Classes:

Click individual titles for more info:
Low Impact Aerobics, Line Dancing, Chair Exercise and Guided Meditation.