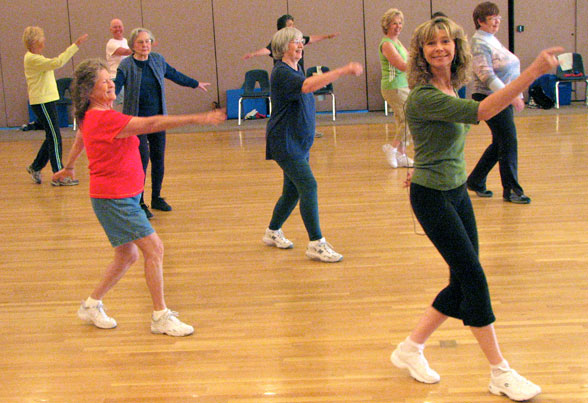 Fit & Fun after 50!
Low Impact Aerobics For All Levels, Men and Women After 50

Move into a more vibrant life of natural wellness! Come join us for positive support, safe low-impact aerobics, music, and fun! You'll boost your mood, burn fat, build stronger bones, improve your stamina and your heart and brain health.
Fitness levels 1, 2 and 3 are demonstrated so you can choose which one is right for you. The second half of class includes stretching, strengthening and stress release practices such as qigong, guided meditation, tapping or other calming "energy medicine" movements. On the first and third Friday of the month, we do optional line dancing from 10:40 am – 11:00 am.) Get past whatever is holding you back and be the awesome person you are! Equipment is provided. (This class includes some floor work at the Margaret Todd Senior Center location, and no floor work at the Goldenaires.)
If you have limited mobility and require a gentler option then check out my new Chair Exercise class that started in January 2011.
What is Aerobics?
Aerobic activities such as dancing, cycling, swimming and race-walking develop increased oxygen transportation and utilization. The word "aerobic" means "with oxygen" and indicates that the energy produced to do the work utilizes an oxygen system.
An ideal duration goal for aerobic exercise is 20-45 minutes, frequency of 3-5 times a week, based on your fitness level. Use the "talk-test" to check for ideal intensity level. You should be able to carry on a short conversation without becoming winded. If you can sing an opera, you're not working hard enough! It is important to start your program slowly and gradually increase your exercise load.
Read Tips For Your First Class. I hope to see you soon!
Other Youthful Hearts Older Adult Fitness Classes:
Strength & Stretch, Line Dancing, Chair Exercise and Guided Meditation.