Contact me if you want to join my live-stream Zoom classes. (707) 642-3603 or email jl@youthfulhearts.com
A good exercise program doesn't cause pain. Instead, it offers the kind of challenge that generates a gradual, consistent improvement. It also cultivates a non-competitive atmosphere so class participants can work at the level that is right for them.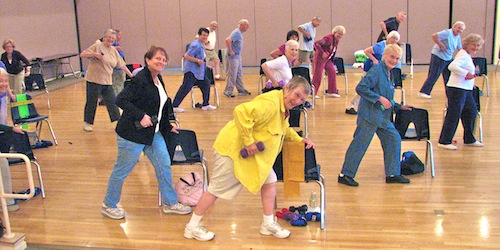 It is so important to do exercise that we enjoy and to feel good about each and every step that is taken toward a desired goal. How we feel about what we are doing directly affects our outcome. Rather than exercising because someone else said that we should, or so that we look a certain way, when we exercise for our own personal fulfillment we become more continuously motivated.
Balanced health is a result of supporting and nourishing the many aspects of our whole being. This natural journey towards our most vibrant, radiant health inevitably increases our energy and clarity. We then feel more passionate and capable to do what we most want to do in our lives.
Currently, I am offering a variety of mindful fitness classes for the amazing youthful hearts in northern California's beautiful Marin County (Novato and San Rafael). Men and women of all fitness levels, age 50 and older, are invited to come join the fun! Isn't it time to experience exercise sessions that are creative, effective and pain-free? For more info about the various classes, visit these pages: Low Impact Aerobics, Strength & Stretch, Line Dancing, Chair Exercise and Guided Relaxation. If you're planning on attending a class, be sure to read my tips on how to prepare for Your First Class. I hope to see you soon!
Here Are Some of the Many Possible Class Benefits:
Improve balance
Sleep better
Increase energy level
Become leaner
Make new friends
Release tension & stress
Increase bone density
Reduce Pain
Gain strength
Feel more youthful
Expand Range of Motion
Have Fun