I am delighted to have an article about my Youthful Hearts Fitness Program in this month's issue of Northbay Biz Magazine. Thanks Bonnie Durrance for a lovely interview and write-up. 🙂 They have just posted the online version…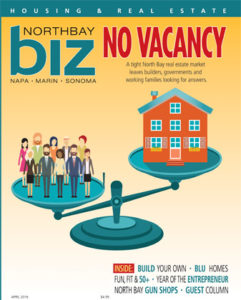 To read the entire article on the Northbaybiz website, click here: Northbaybiz.com/Fun,Fit and Fifty Plus, or just read it below.
Author: Bonnie Durance, April, 2016 Issue
Keeping active, both physically and mentally, is key to healthy aging.
Before we go one step further, let's agree, at least for the time we spend together in this article, to retire the word "seniors." When you're in a room with great music and a group of people in all stages of fitness, with hair in mostly shades of grey—stretching, dancing, bending, jogging, laughing, panting, slugging water and generally surrendering themselves to the joy of movement—the word "seniors," with its connotation of shuffling old age, just doesn't seem to apply.
Now that word is out that exercise (along with good food, a good attitude and good social relationships) is essential to keeping healthy and active as we age, we're seeing a revolution in health and fitness in people over age 50. Here in the North Bay, they're joining together, getting fit and giving and receiving moral support in groups and classes sponsored by local hospitals, community organizations, senior (oops, still using that word) centers and national organizations.
All of a sudden, being over 50 is looking pretty good—at least in our area, where opportunities abound for health and fitness practices that fit almost any budget, physical need and personality preference. The one thing they all have in common is an acceptance that everyone ages, and that keeping moving is essential to enjoying it.
Lifelong fitness
Looking at the fitness possibilities available for the ever-increasing 50-plus age group in the North Bay, the first thing to notice is that the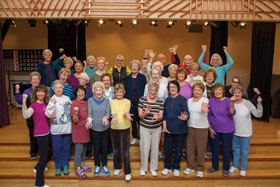 idea of exercise has changed. If you're old enough to remember Jane Fonda's floor-pounding "feel the burn" workouts, you may think of fitness training as a high impact, body-punishing drill designed for hard-bellied millennials. Not anymore. The movers in today's exercise revolution understand that fitness is about more than just body sculpting; it's about living healthy, active lives, even as we age. They understand that movement and social engagement are keys to keeping healthy—both now and for the long haul.
Local opportunities for practicing life-long health and fitness in a social context range from competing in organized games to participating in the many local hospital- and community-sponsored fitness groups and health clubs offering everything from gentle aerobics to all-out zumba. Here are some of the opportunities for fun and fitness over 50 in our area.
Begin where you are
In Novato and San Rafael, Jeanette Logan, owner and director of Youthful Hearts in Marin, brings a fitness practice that starts participants over 50 right where they are, health-wise, and gently coaches them to move and stretch and build their personal fitness in an atmosphere that's welcoming, nurturing, accepting and supportive.
"We have people with high blood pressure, arthritis and other ailments," says Logan, "so there's a need to learn how to put yourself in the 'now' and realize there's always a way to move."
This approach is designed to help everyone, including those who might say they're too out-of-shape to get fit. To that, she says, gently, "Nonsense": "You start where you are, and ask, 'What can I do now?' Start by acknowledging what you can do. There's an inner strength that grows from that." She says she learned to work this way after injuring herself a few times when she was younger (she's now 52) doing full-steam ahead, high-impact aerobics. She learned the value of mindfulness practice applied to fitness and now encourages her 50-plus students to progress at their own speed, even within group classes.
"We're doing movements designed to help strengthen muscles and bring more flexibility and ease of movement," she says. "We each have permission to laugh at ourselves when we mess up."
Logan acknowledges the role physical fitness plays in in maintaining mental fitness, saying, "My classes support brain health. I throw a lot of coordination exercises in the mix." These exercises work the mind as well as the body, and failure isn't part of the mix. "We have the golden rule: If you mess up, smile or laugh at yourself. That feel-good hormone you produce will help you. When you remove the pressure of having to be perfect, you feel so much better about yourself that you get inspired," she says. "That's my approach."
She says that, over and above all the physical exercise, her prime focus is to welcome people and help them begin to get active wherever they are, and to build their fitness from there. "It's a very accepting environment. If people need to sit down or modify a particular movement or not use weights on a particular day, they can," she says, "while still feeling good about themselves and also learning how to manage and modify activities according to their own condition." Through careful, progressive work, her participants learn to experience the joy of motion that's right for them as they challenge themselves and support each other's successes.
"There's a positive energy that starts to build, where you're more inspired and you begin exploring what can you do." This, in itself, is an antidote to the discouragement that can come when aches and pains would prevent us from the activities we once enjoyed. For Logan, the feeling of accomplishment—the joy of movement itself—is part of promoting health and her classes are all about encouragement. Self-criticism has no place at Youthful Hearts. "If you're stuck in the past and criticizing yourself," she says, "you're impeding the performance of your brain, because of all the cortisol [stress hormone] that's made from the pressure of criticizing yourself." In her classes encouragement is practiced.
Some of her classes have a long waiting list. "My classes are well attended, and I feel blessed," she acknowledges. "We have love and respect for each other, which helps create a warm and friendly energy."
That energy begins with her. "Every human being matters," she says. "I'm dedicated to having people feel a sense of community and feel welcome and included." To find out about available classes, go to www.youthfulhearts.com.
Comments