I was recently interviewed by Catherine Wolz, Associate Director of Education at the American Institute for Cancer Research. She asked me questions about cancer survivors in my classes and how exercise helps with cancer prevention and recovery.  Her final article was recently published in Issue #131, Spring, 2016. 
The "Staying Fit with Youthful Hearts" article is on page 4 of this issue:
AICR Newsletter, Spring 2016, Issue #131 (click on red link) or you can read the entire article below:
Staying Fit with Youthful Hearts
A California-based strengthening program helps older adults to thrive, including colorectal cancer survivors.
When Jean Mckechnie of Marin County, California, received a colon cancer diagnosis at age 78 in August 2014, she was stunned. "I thought I'd gotten past that age. I thought I would be cancer-free for life," she says.
During her eight months of chemotherapy after surgery, Jean had to limit her physical activity, which included her participation in a class called Youthful Hearts. The class focuses on strengthening and stretching and is run by Jeanette Logan, a certified fitness instructor. But Jean went back to class after her recovery had progressed enough for her doctor to agree she was ready.
"Once I went back to it, it helped me a lot. The classes give me energy and get rid of the aches and pains," she says.
In 1994, Jeanette began instructing men and women age 50 and older because she wanted her fitness practice to provide a gentler, more mindful approach to exercise. Her classes reach nearly 250 people ages 53-95 and are aimed at improving physical fitness as well as mental, emotional and spiritual fitness.
"Exercise is important but so is the management of stress." Jeanette says, "I incorporate a lot of stress relief into my classes." She uses techniques from meditation, yoga and tai chi. Jeanette also says laughter plays an important role in health.
"A lot of older people in the world have forgotten how to play. We try to make physical activity a joyful experience with creativity and laughing."
Starting Where You Are
Youthful Hearts' strength and stretching classes include varied exercises for different ability levels. Classes start with breathing exercises, simple movements, like moving arms up and down, and other slow movements to get blood flowing. Groups then progress to low-key aerobics and stretching, as well as strengthening and balance activities.
Jeanette modifies some activities for different ability levels. "In my class, it is not about being perfect. You can sit in a chair and modify an exercise. It is important to understand you can start where you are," she notes.
As we age, our bodies lose muscle mass and strength. This can lead to a condition known as sarcopenia. Strength training, in addition to stretching and other exercises, can help prevent this condition, especially among seniors. Physical activity also can lower the risk of cancer and other diseases, as well as help cancer survivors live better quality lives.
Participants in Jeanette's classes say the physical activity helps them to maintain their strength, allowing them to continue daily activities, as well as improve sleep, balance and joint mobility.
Jean notes the camaraderie of her classmates helped her through her treatment and recovery. "After the doctor cleared me to return to Youthful Hearts, I realized how much I had missed the classes, and I was glad I was going back." Jean has been cancer-free since her exam in September 2015.
American Institute for Cancer Research: www.aicr.org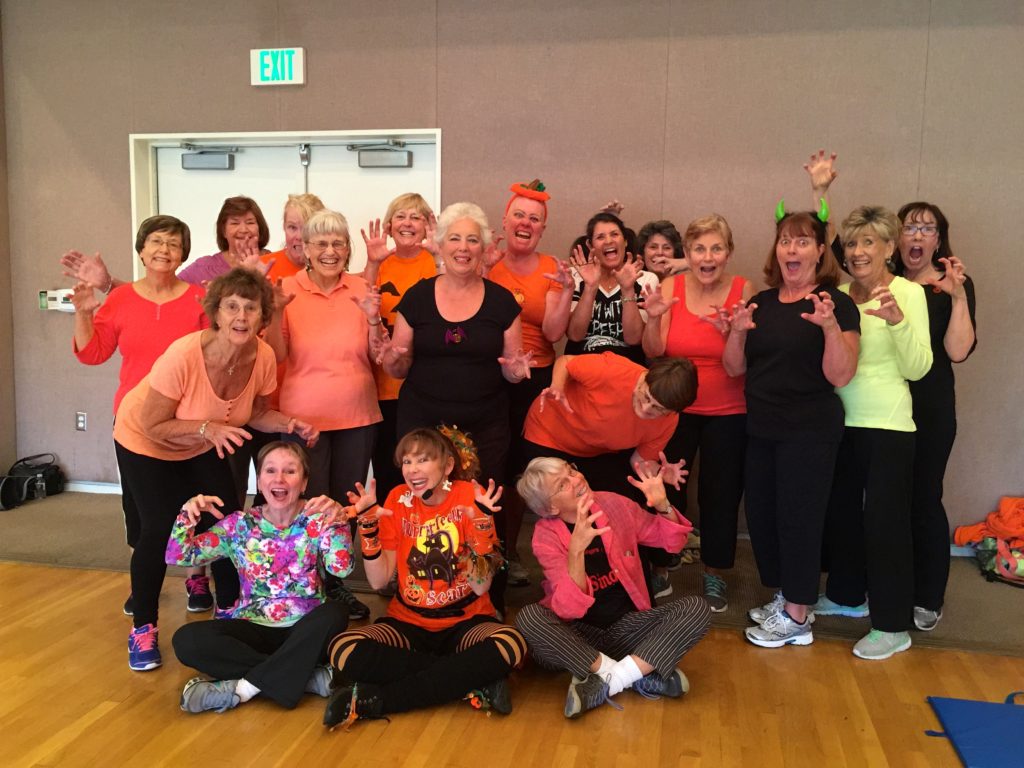 Photo: Jeanette's class celebrates Halloween, October 2015. (Fit and Fun After Fifty class at Margaret Todd Senior Center.)
Comments