I've made a special movie today for my mom Rose (one of my favorite seniors!) in honor of her 69th birthday. It stars many radiant people, including some of my awesome Youthful Hearts class members. Thanks to everyone who helped me with this movie. From my heart to yours…hope you enjoy! May all your birthdays be happy!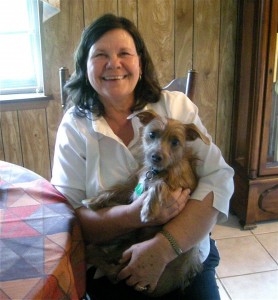 Yay for my Rose, my MOM!  I wanted to pay tribute to her on my blog because she is one amazing woman! She has been steadfastly by my dad's side for 52 years now, through thick and thin, and they are still going strong.
In addition, she is a great mom to me and my sisters and a loving grandma to her 7 grandsons and 1 step-granddaughter. She was born and still lives in Texas, and she's an animal lover, gardener, baker/chef, artist, church and school volunteer, business partner and caretaker to many! In this photo, she is holding her dog and pal, Charlie.
Do you like to celebrate your birthdays?
Comments
28 Responses to "Happy Birthday to my very own MOM!"