Lentils, my favorite legume, may be small but they pack a mighty nutritional punch! Lentils are high in protein and fiber and low in fat, and they provide folic acid and iron. Lentils have a mild, earthy flavor and readily absorb a variety of wonderful flavors from other foods and seasonings. This lentil soup is not only healthy but very hearty. It'll give you energy without weighing you down. Enjoy this traditional and warming dish.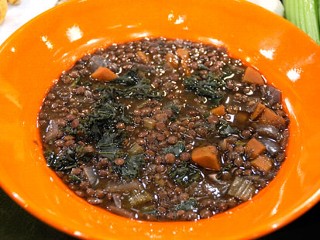 Ingredients:
3 carrots, chopped
3 ribs of celery chopped
1 onion, chopped
3 cloves garlic, pressed
4-8 cups of water or vegetable broth (Add more liquid if you want a thinner soup. I like my soup thick, so I only use 4 cups)
2 cups lentils, rinsed
1 tsp dried thyme
Directions:
Put all of these ingredients in your crock pot. Set it on low if you are leaving it all day, high if you are starting it around lunchtime.
About 10 minutes before you are ready to serve the soup, add:
1½ tsp. balsamic vinegar
2 tsp. salt
1 tsp. ground pepper
1 bunch of kale, washed and chopped
Variations: You can add  fresh tomatoes or one 14½ ounce can of diced tomatoes at the beginning of cooking if you like. Cumin and olive oil are also good additions. I add all of these additional ingredients. Yum yum!
Thank you Mary Sperling for this delicious recipe.
Comments
7 Responses to "Crock Pot Lentil Soup: Easy Healthy Meal"