Want a delicious, quick and easy way to optimize your health and increase your vitality? Green smoothies will do the trick! They're just like fruit smoothies, but with the addition of power packed leafy greens such as spinach, kale, collard greens, or chard. In a green smoothie, the sweetness of fruit masks the natural bitterness of leafy greens–so you may be surprised at how good it can be. My husband and I both feel that green smoothies and green juices, which we've been drinking for years, have greatly contributed to our long-standing good health. So I want to share one of my favorite recipes with you.
Jeanette's Emerald Essence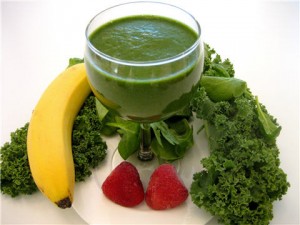 Ingredients:
1 cup filtered water
2 handfuls of spinach 
2 large collard leaves or 3-4 small ones, (cut off bottom stems if you prefer milder taste of greens) 
1 cored apple or pear, (peeled, if not organic) 
1/4 cup fresh or frozen blueberries 
1 fresh or frozen banana (frozen makes the smoothie really creamy!) 
3 ice cubes if you want your smoothie colder
¼ small avocado or 1 T. fresh flax oil (healthy fat)
optional: 1 tiny pinch of stevia or 1 tsp. raw honey
Directions: Blend water and spinach until liquefied. Next, add cut up collards and blend again. Add sliced apple, blue berries and avocado (or flax oil) and blend again. Add banana and blend again. If you're using unfrozen banana then add 3 ice cubes for coolness and blend one last time until drink is smooth. Taste first to determine if you want to add the stevia or raw honey. (Note: if you have a high powered blender such as Vitamix or Blendtec then you won't have to blend so many times.)
Yields: 3-4 cups (2 servings)
Here's to supercharging your health!
Do you currently have greens in your diet? Have you ever had a green smoothie?  If you try this recipe I would love it if you'd come back and share your experience with us. Thanks!
Click here to read Jeanette's tips on making green smoothies.
Mango Madness Green Smoothie Recipe
Comments